Clouds provide business the opportunity to scale and operate their service the way they want. The popular cloud platforms such as AWS, Azure and Google Cloud provides cloud services aimed at diverse end users which can include startups, established business and enterprises. This makes their pricing a tricky thing to understand.

Pricing is always a tricky aspect to compare when it comes to cloud services. However, we can surely get a good idea of what they have to offer by going through their different pricing models. The article aims to give a deep understanding of AWS, Azure and Google Cloud pricing. By the end of the article, you will have a clear idea of cloud hosting price and can decide which cloud hosting is best suited for you. So, without any delay, let's get started.

Note: The cloud market is highly competitive and hence the prices for their different services don't remain the same for long periods. Discounts or campaigns are run from time to time which makes it even harder for the consumers to choose the right plan for them. In the short term, it doesn't matter; however, the fluctuations in pricing can have a real impact in the long term.
What are your options?
If you thread deeply into the cloud marketing market, you will find that the prices are set extremely competitive by all the major players. They also opt for aggressive discounts, and the real changes started to show in 2017. From there, more options were provided by the cloud providers who gave more flexibility and complexity to the end user. Changes such as per second pricing made considerable changes to the overall price structure. Also, all the service provider offers free tiers where you can try their services before you pick up the right cloud hosting service.
What determines the cost?
There are many different aspects of cloud services that determine the cost of your plan. Let's discuss them below.

Operating System: The choice of your operating system determines the cost of your plan. It can range from free to paid. For example, CentOS is mostly free on the cloud services whereas Windows or Red Hat Linux are paid operating system. This might come as a surprise for many as consumers might think that every operating system should have the same pricing attached to it.

Server Instance Type: Just like any cloud hosting, the pricing of your package will depend on the resources that you would require to run your website or service flawlessly. Also, each of the cloud providers has their way of handling virtual machines which means that each one of them will calculate the pricing differently. The key components that determine the resources allocated to you include the CPU, memory and disk storage. Not to mention that virtual machines can use a different type of CPUs, memory and even disk type. Lastly, each cloud service provider keeps evolving their service which means that the instance type can change over time.

Location: The last key factor which determines the cloud hosting price include the location of the data center that you choose. Datacenter location enables the business to optimize their service delivery to their customer and hence is billable. Also, it takes the right amount of expense to handle datacenter. Currently, each of the cloud service providers, AWS, Azure and Google Cloud offers 61, 54, 55 data centers respectively.

Now, that we got a proper understanding of what to expect, let's dive deep into the each of the cloud service providers out there.
Amazon AWS
Amazon AWS is one of the best cloud service providers out there. They offer a great discount strategy for their EC2 component. However, their pricing is still confusion among the rest and can easily dilute what they have to offer.

The key pricing aspects that they have to offer are as below.
On-Demand
With on-demand, you get charged for what you use. It is also known as the "Pay-as-you-go" category with the focus on providing short term resources to the users. Most of the time, it is used for projects that are in the testing phase and require dedicated resources for a short amount of time. On-Demand doesn't offer any discount whatsoever due to the way how it operates. The pricing is flexible which is more than enough to attract consumers.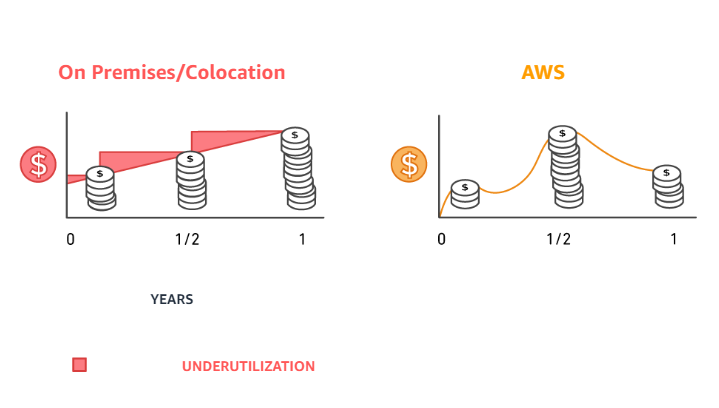 Fig1. Image showing how Pay-as-you-go model benefits end-users

Startups or business who are growing rapidly can also take advantage of the payment model as it enables them to only pay for the resources currently being used.

The consumer needs to pay either by second or an hour and require no long-term commitments. The plans for Linux starts from $0.0255 per hour that consists of 2 GB memory 1 vCPU and EBS Only storage. Windows pricing starts from $0.0098 per hour with 0.5 GB memory, 2 vCPU and EBS only instance storage.

OnDemand Pricing Table EC2 Linux Chart

| | | | | | |
| --- | --- | --- | --- | --- | --- |
| Type/Config | 1vCPU, 2GiB, EBS storage | 2 vCPU, 9 ECU, 4 GiB, EBS storage | 8 vCPU, 26 ECU, 61 GiB, EBS storage | 2 vCPU, 7 ECU, 15.25 GiB, 1 x475 NVMe SSD | 64 vCPU, 174.5 ECU, 976 GiB, 1 x 1920 SSD |
| General Purpose | $0.0255 per hour | – | – | – | – |
| Compute Optimized | – | $0.085 per hour | – | – | – |
| GPU Optimized | – | – | $3.06 per hour | – | – |
| Storage Optimized | – | – | – | $0.156 per hour | – |
| Memory Optimized | – | – | – | – | $6.669 per hour |
Note: The table provides a rough idea on the pricing. To get a better idea, we recommend checking their EC2 On-Demand Pricing page: https://aws.amazon.com/ec2/pricing/on-demand
Reserved Instances
Reserved Instances payment model takes a different approach and looks for a long-term commitment from the client. According to it, the client will be given the best possible discount based on how long or how much resources he allocates at the start of the session. In short, it depends on the commitment length. However, it is not at all binding as they also provide "Convertible" Reserved Instances which lets them move from one type of infrastructure to the another.

The catch here is the long-term commitment. As an end-user, your job is to make sure that you correctly choose the length of the commitment. However, if you fail to do so, you can always sell the extra resources to the third-party.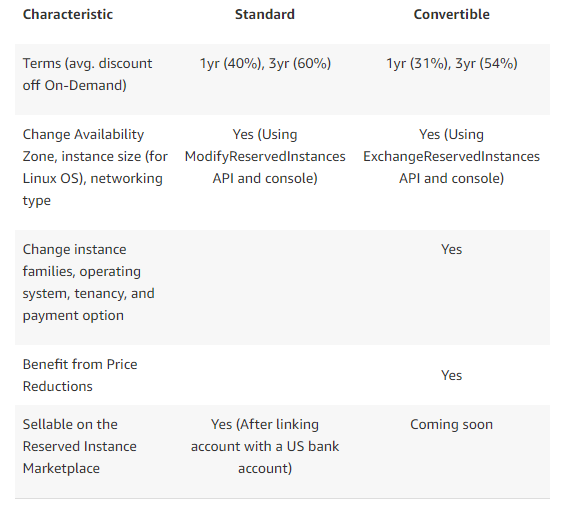 Fig 2: Showcases the crucial difference between standard and convertible

EC2 Reserved Instances: https://aws.amazon.com/ec2/pricing/reserved-instances/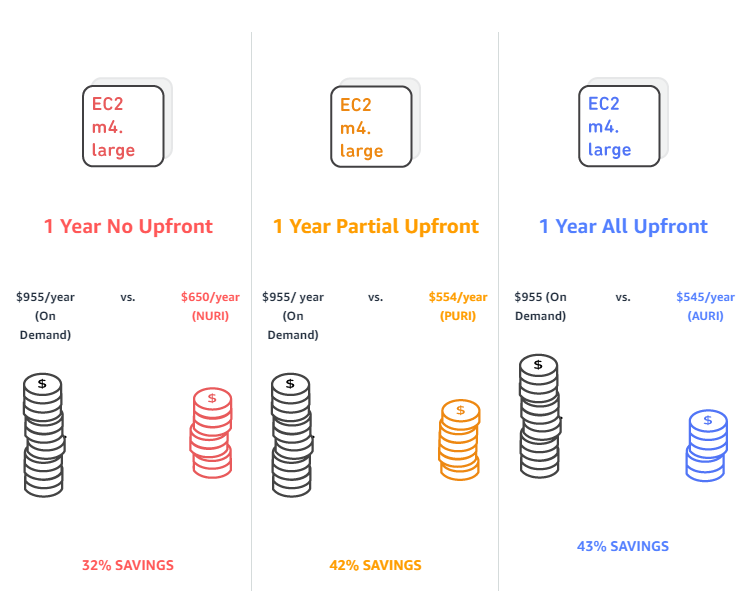 Fig 3: How Reserved Instances Work

Spot Instances
Spot instances work by requesting the spare Amazon EC2. As a consumer, you can save up to 90% of the On-Demand pricing and is generally based on long-term trends.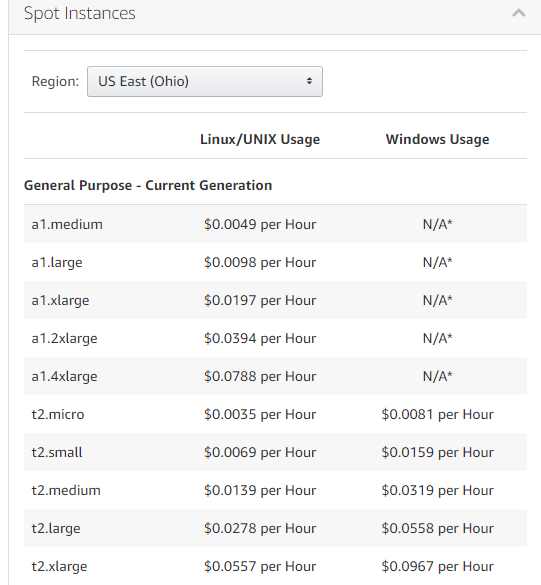 Fig 4: Spot Instance Prices
Dedicated Hosts
The last type of pricing model offered by AWS is the dedicated hosts. Here, the end user gets access to the dedicated EC2 instances. The prices are similar to that of Reserved and On-Demand instance.
Free Tier
AWS also offers free tier which can let you experiment with the AWS services, products, and platform. You can check more about it here: https://aws.amazon.com/free/
Azure
Just like AWS, Microsoft's Azure also offers diverse pricing models. Their pricing is also competitive; however, Azure is comparatively cheaper compared to AWS in many services provided by both the cloud hosting giants. The simple chart created by CloudHealthtech.com can gauge this.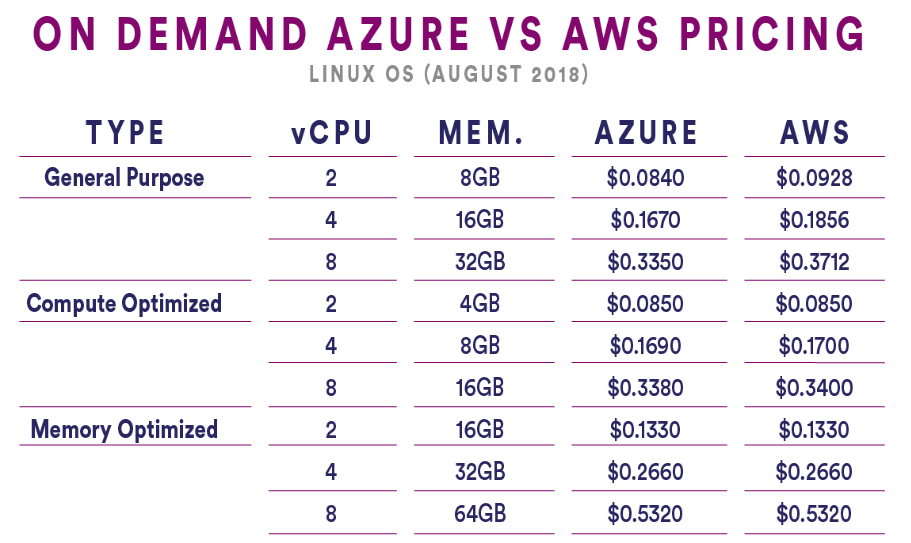 Fig 5: Azure vs AWS On Demand Linux OS pricing table as of August 2018.

The data storage prices are also cheaper on Azure when compared to AWS. Check out another chart offered by CloudHealthTech.com for better understanding.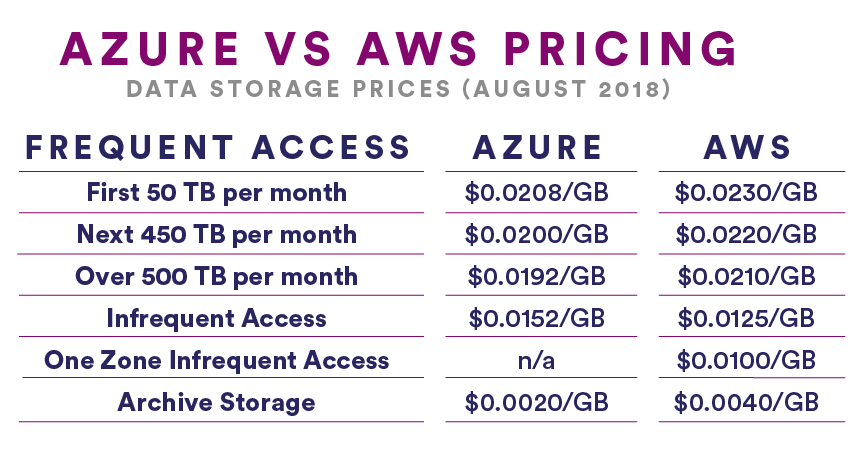 Fig 6: Azure vs AWS pricing for data storage as of August 2018.

The Azure market itself as cheaper than AWS when it comes to cost.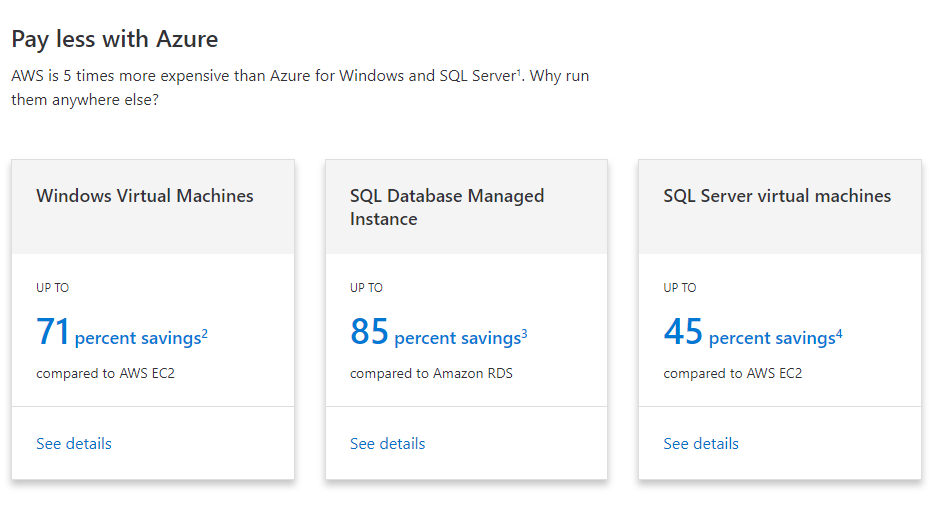 Fig 7: Azure marketing themselves as a cheaper and better alternative to AWS.

Azure is an excellent pick for business which operates using Windows software licenses. However, AWS offers a complete solution and advanced tools compared to Azure. The pricing model is similar to AWS with a little twist. They also provide a proper discount strategy to attract customers. Let's go through them one by one.
Pay-as-you-go
Just like AWS, Azure also offers short-term volatile workloads. The end-user needs to pay according to the time and compute capacity of the Azure virtual machine. The billing is done per-second and rounded to the last minute.
Reserved VM Instances
As you might have guessed it, it is similar to the reserved instances offered by AWS. If you choose Azure, you need to do 1-3 year commitment of using a certain compute capacity. The reserved VM instances are dedicated in nature, and you need to the pay-up-front in a single go. If you take up excessive RIs, you can easily transfer the extra to other Azure users. The refund system works using a prorated refund based model which lets you get a refund with a 12% termination fee. You can learn more about Reserved VM Instances here.

Linux Pricing details: https://azure.microsoft.com/en-in/pricing/details/virtual-machines/linux/
Windows Pricing details: https://azure.microsoft.com/en-in/pricing/details/virtual-machines/windows/
Azure Hybrid Use Benefit
Azure Hybrid Use Benefit is aimed towards end users who are already using Windows license and want to extend it to Azure. Windows is not a free operating system and have a cost associated with it. This means that on-premises license can be extended without incurring additional cost. The terms of AHUB service comes under Software Assurance. You can learn more about AHUB service here.
Google Cloud
Google Cloud is our third cloud hosting provider that we are going to discuss. Google Cloud is comparatively easier to use than the other two cloud hosting providers. Their services are also at par with other providers and is also competitive when it comes to pricing. As AWS is the number one leader in cloud hosting services, they also market themselves against AWS. According to Google Cloud, they are 35% cheaper when it comes to computing workloads and 21% when it comes to storage prices.

So, what pricing model they use? Let's explore below.
Sustained Use Discount(SUD)
Sustained Use Discount is provided when a VM runs more than 25% during a month. It is similar to Pay-as-you-go with a twist. It doesn't require any upfront fees and you need to pay for what you use. You can get up to 30% discount using SUD. The billing is done per second(considering that you have used their service for at least one minute).
Per-second billing
Per-second billing is similar to SUD, but with no minimum usage per month. You pay for what you use.
Preemptible VM instances
Preemptible VM instances are ideal for those projects which run with a specific deadline. According to Google, you can save up to 79% cost associated with it. The twist here is that the VMs are preempted from the higher tier and can only be used for short term purposes. The idea is similar to that of AWS's Spot Instances with slight differences between them.
Custom machine types
Custom machine types let's you customize your instance and save up to 48% while doing so.
Committed Use Discount(CUD)
Committed Use Discount is long-term plans that the end-user need to make for either 1 year or 3 years. They might sound similar to Azure Reserved VM and AWS Reserved Instances, but only when it comes to the time frame commitment.

The key difference here is that you do not purchase virtual machines, but CPU and RAM. The purchased resources that can be used to create VMs and allocated between them. Another critical difference is the freedom that you get with the VMs as you can create your custom machine types without any limitation. Unlike one-type upfront payment, CUD works monthly, but the end-user needs to purchase commitments which cannot be cancelled.
So, what do you choose?
AWS: If you are looking for the most flexible purchasing options when it comes to services, products, and features, then AWS is a great choice. They have all types of payment option that can garner to a wide range of audience. That means you can pay on a monthly basis, partial upfront or 100% upfront. This gives the all-important flexibility that an organization wants in a highly competitive market. Also, if you overbought server capacity, you can sell them to the third party at a discounted price. Before you choose AWS, you need to learn that they are the costliest of all the three, but do provide value when it comes to services, products, and features.

Azure: Microsoft's Azure is also a great cloud hosting provider. Their services are more inclined towards Windows operating system where you can get Enterprise Agreement. However, this doesn't mean that they don't provide support for other operating system or instance types. You can get the best out of Azure if you are already running Windows. Azure offers cheaper compute instances when compared to AWS but has similar storage plans. So, if you are looking for more competitive compute instances and is using Windows, Azure is a must pick.

Google Cloud: Google Cloud is relatively new and straightforward compared to Azure and AWS. We recommend Google Cloud to anyone who needs cheaper plans and are looking for more flexibility when it comes to long-term commitments and discounts. The Committed Use Discount can give you great plans; however, you should know that once purchased, there is no point of return as your money is invested once for all.

That's it for the detailed cloud hosting price comparison between AWS vs. Azure vs. Google Cloud. So, what do you think about the pricing models used by these three cloud hosting giants? Comment below and let us know. We are listening.

Reference: