SaaS cost management involves the art of overseeing software-as-a-service (SaaS service) applications and cloud-based subscription software, all with the aim of trimming down expenses and making sure everything runs efficiently.
In this blog, we are going to see how the cost can be cut down in SaaS service by the adoption of cost-cutting strategies.
Let's explore!
SaaS cost reduction
SaaS cost reduction refers to the process of reducing the amount of money spent on unused, or duplicative SaaS tools. It falls under the SaaS spend management plan, and helps to free up the spend for additional licenses or subscriptions that can yield measurable benefits. 
It has been estimated that SaaS spending soars up to $195 billion globally. And thus SaaS cost reduction is becoming a top priority for the organization. 
What is SaaS Spend Management?
SaaS spend management employs the proactive approach of identifying, recording, and enhancing software expenditures, including new acquisitions, renewals, and ongoing subscription expenses. It's a critical endeavor to ensure you derive the most value from each application in your portfolio, whether it's your cloud file storage, project collaboration software, or HR platform.
Effective SaaS spend management typically includes:
The utilization of real-time discovery tools.

The implementation of portfolio management strategies.

The employment of negotiation tactics for software procurement.
These methodologies contribute to the monitoring and reduction of your company's spending on its SaaS stack, promoting more efficient use of resources.
Boosting cash flow is a key benefit of a cost reduction strategy, as it can unlock additional funds that can be channeled into new ventures, opportunities, or settling existing liabilities.
In response to shifting market dynamics, such as dwindling sales, heightened competition, or unexpected economic challenges, SaaS cost reduction becomes a crucial adaptation for a company to ensure its continued relevance and survival.
Furthermore, cost-cutting initiatives contribute to enhancing sustainability by reducing the environmental footprint, conserving valuable resources, and aligning with eco-friendly initiatives.
Significance of cost management in SaaS
SaaS cost management is a critical aspect of financial stewardship, ensuring that a company efficiently allocates resources to its software subscriptions.
The company does not want to overspend its money on the applications. Then, what fact makes so much of SaaS spending go to waste? Here are some factors to consider:
Lack of SaaS visibility: In an organization, the IT teams and funding teams cannot able to see the app usage by the organization, which means who uses it and its frequency.
Overlapping of apps: Many departments may spon for the varied applications that do the same task. Employees will access only one or two features in those apps, instead of switching to a cost-efficient platform that includes all in a single place.
Not having enough insights: Some employees may employ credentials and credit cards for signing up for specific applications without getting any approval from the procurement or IT team.
In the above scenarios, uncontrolled costs will increase and it will affect the organization financially. And thus it is essential to have an effective cost management plan.
Also Read: Role of SaaS Service in Your Business (easydeploy.io)
SaaS Cost Management Strategies
Step 1: Uncover All SaaS Tools
While many businesses believe they have a complete grasp of their SaaS service tools, studies by Gartner reveal that shadow IT accounts for a substantial portion of IT spending in large enterprises, ranging from 30 to 40 percent.
Increasing visibility into your software stack presents an immediate opportunity for cost savings, as it often reveals duplicate or unused subscriptions. Through diligent SaaS cost optimization, organizations can streamline their expenses, allowing them to get the most value from their software investments.
To cut SaaS costs, here are the attributes businesses should identify for each previously unknown application as it becomes visible:
Identify Used SaaS Applications: Usage metrics shed light on the overall value of a subscription. If only a few individuals are using a SaaS service tool, it may be time to explore alternatives or eliminate underutilized applications.
Determine Users: Understand which department, team, or employees are using the applications. If one team prefers a particular tool while a more cost-effective option with the same functionality exists, consolidating under a single application can save money.
Cost Evaluation: Compare the costs of each software subscription to determine ROI and assess each application's effectiveness.
Usage Analysis: Explore options for enhanced feature sets in some SaaS tools, which may allow for the elimination of underutilized subscriptions.
Renewal Dates: Having ample lead time before renewal enables more informed contract negotiations and budget optimization.
Various methods of SaaS discovery exist, but when seeking cost reduction, it's crucial to view the financial aspects. Spend-based discovery ensures that no overlaps occur between Accounts Payable and Expenses, as business users may purchase software with credit independently of IT oversight, resulting in duplicate applications.
Step 2: Prioritize by Cost
After discovering your SaaS applications, the next step is to prioritize them by cost. The number of applications can often be overwhelming, with most companies underestimating their total application count by two to three times.
Prioritizing by cost allows for an informed evaluation of SaaS features versus cost, facilitating the selection of applications based on their overall value to the organization.
High costs are typically attributed to mission-critical tools used across the organization, such as e-commerce platforms, CRMs, ERPs, or comprehensive office tool suites. These platforms often offer opportunities to reduce costs by providing functionality in lesser-used applications, enabling consolidation of SaaS service tools.
Step 3: Minimize Subscription License Waste
Eliminating unused licenses is a significant source of cost reduction. Enhanced visibility into your SaaS stack helps identify who uses each subscription, allowing for the reallocation of current licenses and enabling organizations to determine future licensing needs.
Clear insights into license utilization also support informed contract negotiations to prevent overages on excess licensing. Identify applications with wasted licenses at least three months before contract discussions to ensure unused licenses are not renewed.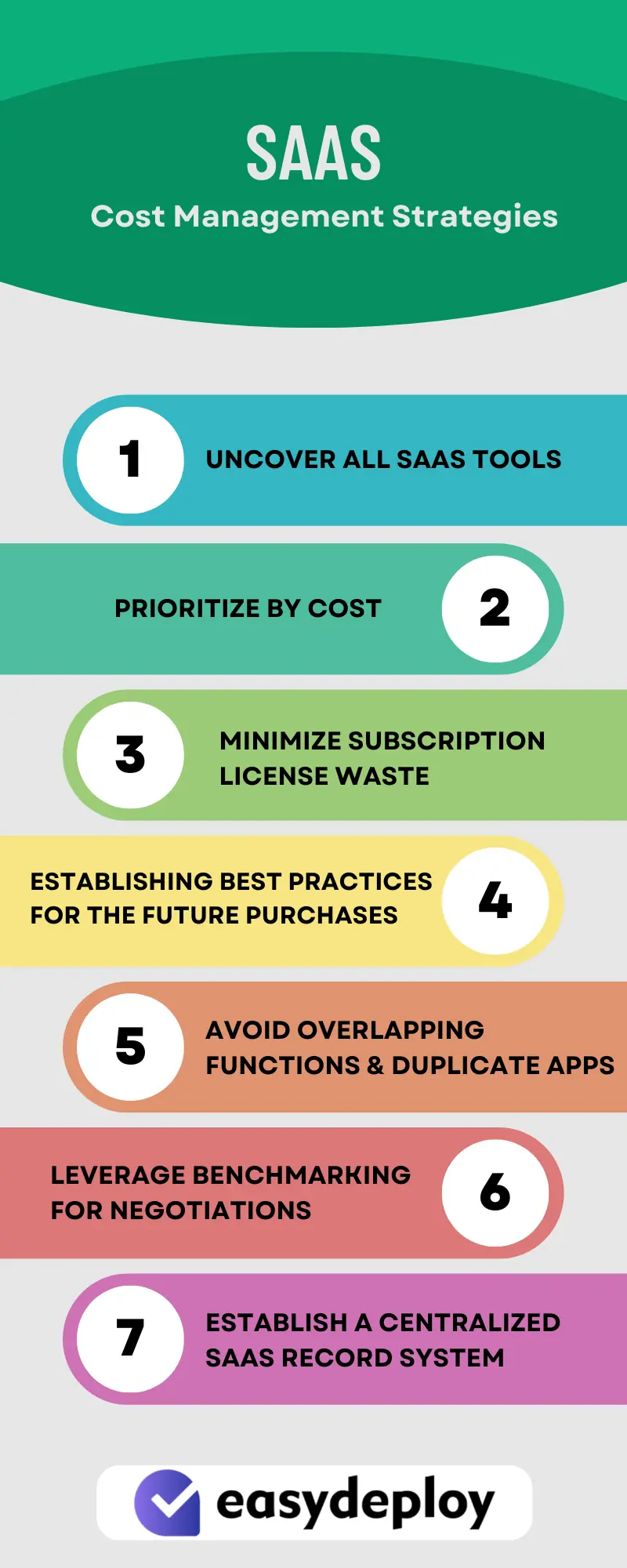 Step 4: Establishing Best Practices for the Future Purchases
To maintain long-term SaaS cost optimization, examine the purchase processes that led to acquiring duplicate and unused applications. Establishing a transparent SaaS cost structure is essential for budget planning, as it provides a clear overview of how software expenditures are distributed.
To continue controlling SaaS spending, analyze organizational purchase processes and address inefficiencies. Some suggestions include:
Centralized SaaS Management: Manage all SaaS services through a central system that contains contract details.
SaaS Manager: Appoint a SaaS manager responsible for overseeing all application purchases and contract renewals.
Review and Approval: Require that all SaaS purchases receive review and approval through a cross-functional team, a SaaS manager, or sourcing/procurement.
Using a reliable SaaS cost estimator helps businesses project future expenses accurately, enabling more effective financial planning.
Step 5: Avoid Overlapping Functions and Duplicate Apps
Companies frequently acquire department-specific SaaS tools, often leading to multiple applications serving the same purpose. This issue is exacerbated when Line of Business (LOB) purchases are not documented by IT.
Overlapping functionality frequently occurs in Project Management, Sales Intelligence, Team Collaboration Tools, and File Storage and Sharing. To eliminate overlapping functions, compare feature sets across all SaaS applications.
User input is often valuable when deciding to fully understand if one subscription is better.
Step 6: Leverage Benchmarking for Negotiations
Most applications undergo renewals once a year, providing an opportunity to negotiate with vendors. Using SaaS benchmarking, you can compare your current contract's price against similar companies, allowing you to leverage this information during negotiations. This approach removes uncertainty about fair pricing for each license and application.
SaaS benchmarking provides a comprehensive understanding of your current price compared to your peers, whether acquiring a new application or renegotiating an existing one.
Step 7: Establish a Centralized SaaS Record System
The final step in reducing spending involves implementing and maintaining a central system of record for all SaaS application details. To ensure continued SaaS cost optimization, compile all information into this system and assign a SaaS manager to oversee contracts and negotiations.
Ongoing records maintenance enables cost budget optimization and informed SaaS purchasing through usage metrics.
Benefits of SaaS cost management
A detailed SaaS cost breakdown is essential for identifying areas where SaaS cost reductions can be applied without sacrificing operational efficiency.
You can unlock several benefits with the adoption of effective cost-management strategies. It is not only optimizing the cost spent but also reallocating the resources to achieve higher valued areas. It is also important at a time when most of the decision-makers decide cost management is of paramount importance.
Reducing the SaaS cost management can yield long-term benefits as follows:
Greater flexibility:

With effective planning for unused, redundant, and, unused applications, freeing up resources can be done to reinvest in businesses.

High productivity:

Adopting SaaS Licenses and subscriptions to software can lower operating costs and help to boost the software utility rate.

More innovative:

When IT is not overwhelmed by the software bloat, then they have more time to concentrate on training and support to bring innovative networks.
Easydeploy to minimize your SaaS spend
The reality is many firms are spending more on SaaS services. It means the strategies above can have a big impact on productivity. Every task in an organization must be taken into consideration to lower costs and increase productivity.
Easydeploy, a leading cloud service provider shows the data of application usage by the employees, and its frequency and thus you can take effective actions to bring a change.
Conclusion
Hope this article reveals about the effective ways to cut costs within your company. Among all the strategies mentioned here, one of the easiest-to-implement solutions is to use a SaaS service platform like EasyDeploy.
EasyDeploy empowers you, your team, or your department to monitor workplace data and seamlessly cross-reference it with resource allocation, including budget management. With a rich array of administrative functionalities at your disposal, EasyDeploy is a valuable tool for implementing and managing your cost-cutting initiatives effectively.
If you want to know more about SaaS cost management, please reach us today!