When it comes to choosing an affordable virtual private server, three cloud providers come into the picture, DigitalOcean, Linode and Vultr. They provide excellent services and ensure that the end user always has a great user experience. In this article, we will be going through a detailed comparison between these three VPS providers i.e. DigitalOcean vs Linode vs Vultr.
At the end of the VPS hosting comparison, you will be able to choose the best VPS hosting for your project or business. However, before, we start with the actual comparison, we need to understand what is VPS hosting. Let's get started.
Must Read: Cloud Computing Market worth USD 623.3 Billion by 2023
A Small Guide on VPS Hosting
VPS stands for Virtual Private Server. It is a virtualized server that mimics a dedicated server and works within a shared hosting environment. The use of a shared hosting environment for VPS is what makes it unique. Also, technically, it means that it provides both dedicated and shared hosting.
What is VPS Hosting Used for?
VPS hosting is mainly used by people who have a website with high traffic, and also require the server to be customized according to their own requirements. But, this doesn't mean that the user needs to buy a dedicated server. Also, dedicated servers cost significantly more when compared to VPS as you are renting an entire server.
In short, it is an ideal choice for the websites that are looking for an affordable solution without spending a fortune on dedicated hosting. Before you choose VPS, you should know your exact requirements and see the efficiency effect on the operations.
A VPS can easily handle 25K to 30K for a normal website whereas it can handle anywhere around 10K for an eCommerce website. These numbers are just for reference and hence gives you a guide on what a VPS hosting can be used for.
VPS hosting is more secure, reliable and flexible when compared to shared hosting. But does that mean they are faster than shared? The answer is Yes! VPS hosting is faster as they get dedicated features associated with them. However, the end result depends entirely on how the VPS server is going to be used. The speed of a VPS hosting depends on the quality of the server, the way you optimize it and also on the number of resources you have purchased.
However, VPS hosting is generally faster than shared hosting as it offers more control compared to share. Not only that, shared hosting resources are shared among different websites which are not the case with VPS hosting. The more bandwidth the VPS hosting offer, the better it will perform.
Also Read: AWS vs DigitalOcean
What are the Benefits of VPS Hosting?
VPS hosting offers tons of benefits when compared to other hosting operations. It is especially beneficial for SMBs as they can get great hosting performance at an affordable rate. Let's learn more about the benefits of VPS hosting below.
1. Improved Reliability: VPS offers better reliability when it comes to shared hosting. As VPS offers dedicated resources in a shared environment, you get quality instead of quantity. Also, VPS is completely separate and hence doesn't affect performance at all.
2. Better Performance: VPS offers better performance as resources are dedicated entirely to your website. You get better processing power, capacity, and RAM which means faster website loading time and better user experience.
3. Ability to Customize: As a business, you can customize your server the way you want. This also means that you get software freedom. However, you always need to operate within the limits of the server resources, otherwise, things might not work as intended.
4. Root Access: You get full control over the server with the help of root access.
5. Server Monitoring: You can actively monitor your server status and ensure that it is working properly. This is essential when it comes to protecting your server from third party malicious actors.
Apart from the above five significant benefits, you will also get cloud data backups, multiple domain hosting, and comprehensive technical support.
There are many key differences between shared hosting and VPS. Let's have a look at the main differences i.e. Shared Hosting vs VPS
1. Server Resources: Shared hosting works with the idea of "shared" resources. Your website will only be able to use the allocated resources allocated. However, it's performance might get impacted if the whole server is in stress. VPS hosting, on the other hand, offers better server resources management which can be used for businesses who are growing at a rapid rate.
2. Performance: Shared hosting lacks performance. In comparison, VPS hosting offers better performance if configured correctly.
3. Security: When it comes to safety, VPS beats shared hosting by a mile. VPS hosting is logically divided even when they reside on the same server. This means that if one VPS hosting is infected, it will not infect other VPS instances. Shared hosting, on the other hand, is prone to be hacked or infect other instances.
4. Server Administration: Shared hosting provides limited control over your hosting environment. But for most websites, it will do just fine. VPS hosting, on the other hand, provides complete control including giving access to the root account.
5. Scalability: VPS hosting is easy to scale compared to shared hosting.
Which One is Better, VPS or Dedicated Server?
The question is hard to answer, and the answer completely depends on your requirements. If you are looking for a balanced hosting service with a limited budget, then no one can beat VPS. It is virtually private which means that you are provided with a virtual server and not a dedicated one. The separation is made logically using special virtualization software where each VPS instance is separated with precision.
This also means that VPS hosting has limited resources allocated at them, and it would not be able to expand them if needed. Dedicated servers are the real deal where you get full access to the whole server. This means that you get access to a lot of resources, but also at a cost associated with it.
In short, a dedicated server has an edge over VPS. They have better security, better resource management, better configuration. However, they do come at a cost and are ideal for businesses who are expanding at a rapid rate.
How does VPS Work?
The working of VPS should be clear by now. However, to ensure proper understanding, let's go through it one more time. A VPS runs on a dedicated server. It is not provided the whole resources of a server, but a pre-defined resource according to the client's requirement. As it is a "virtual" server, it is logically partitioned from other VPS instances on the same server. Virtualization solutions such as hypervisor is used to make this happen.
All the VPS are kept separate from each other and can be customized accordingly. This also means that they can have their own operating system. It is more like an illusion rather than the real thing. But this also makes them more affordable with adequate performance.
DigitalOcean vs Linode vs Vultr: Which One is the Best?
Now, when we have a good knowledge of how a VPS works, we are in the right position on doing a detailed comparison of the leading VPS hosting providers, i.e. DigitalOcean vs Linode vs Vultr.
Let's get a basic introduction of each one of the VPS hosting providers that we are going to compare today.
DigitalOcean is the most famous out of the three VPS hosting providers. DigitalOcean first started their operations in 2011 and aimed to solve the problems of SMBs. They provided very competitive pricing and have their servers all across the world. Their VPS are equipped with proper SSD and full KVM virtualization. They named it "Droplet."
Linode is older compared to DigitalOcean and was founded in 2003. It offers robust servers and is privately owned. Initially, they started with XEN but changed to KVM recently. However, they recently updated their plans with more rams due to the competition. Other than that they also added payment methods to ensure better user experience.
Vultr is the newest of all of the three. It was founded in 2014 and is mainly targeted at business and developers with an aim to simplify the whole deployment process. Right now, they have provided more than 21m+ instances and have their servers are located over 16 data centers.
DigitalOcean has surprised the world with its cloud offerings and the businesses are adopting its hosting readily. Here is the list of 10 popular websites hosted by DigitalOcean.
DigitalOcean vs Linode vs Vultr – The Baseline
Our comparison will be done based on the most basic on the most value-for-money $5 tier. This is also the most popular tier among the developers and business. The higher tier will showcase similar patterns, and hence we have taken it as a baseline. It is as below.
| | | | |
| --- | --- | --- | --- |
| | DigitalOcean | Linode | Vultr |
| Location | New York 1 | Newark, NJ | New York(NJ) |
| RAM | 1 GB | 1 GB | 1 GB |
| CPU | 1 Core | 1 Core | 1 Core |
| SSD | 25 GB | 25 GB | 25 GB |
| Transfer | 1 TB | 1 TB | 1 TB |
As you can see, all three VPS providers offer similar kinds of specifications at $5. This is great as it shows that all three of them are competing to capture the market which means better deals for the end user.
So, how all of them are compared? Let's get started.
DigitalOcean vs Linode vs Vultr – Operating Systems
VPS supports a wide range of operating systems from the onset. All of them come default with Ubuntu 18.04.02 x64. As Ubuntu offers great longtime support, it is advised to use it with your build. However, you are free to choose other operating systems including Debian, Fedora, CentOS.  You can also select an older version of Ubuntu if your project demands.
DigitalOcean vs Linode vs Vultr – Features and Usability
Each of the three VPS providers offers excellent feature-set. You can backup your VPS or monitor its health over time. In terms of usability, all three of them provide a superb user experience. The dashboard provided with them are sleek and offers excellent control over your VPS solution.
Each one of them let you deploy, manage, secure, scale and monitor seamlessly. The security is also top-notch with over 99.99% uptime SLA for all the services provided.
DigitalOcean vs Linode vs Vultr – DDoS Protection and Security
None of the VPS providers come with DDoS protection. That's a huge bummer considering that many shared hosting offer DDoS protection out of the box. DDoS attacks are prominent and can actually hamper the normal operation of a website or service. In the end, a normal user is affected.
But, that's not the end, as you can use popular DDoS protection services such as CloudFlare CDN. All you need to do is integrate it into your setup and you are good to go. In terms of other security features, all the VPS hosting providers are top-notch.
DigitalOcean vs Linode vs Vultr – Customer Support
Customer support is also an integral part of any service. This is also true in case of virtual private servers. After all, as a business, you cannot merely waste time for a problem to get fixed. Supportive customer support can go a long way.
When it comes to reviews, Linode tech seems to fair well when it comes to customer support. However, it doesn't mean that the other two providers DigitalOcean and Vultr have lousy customer support. They also have seamless customer support.
DigitalOcean: They offer support through tickets. You can learn more about their support here: https://www.digitalocean.com/company/contact/#sales
Linode: Linode offers support through tickets and email. They also provide call support. Furthermore, you can also chat on IRC and get connected. You can get more information about their support here: https://www.linode.com/contact
Vultr: Vultr offer support directly through the dashboard using the ticket system.
DigitalOcean vs Linode vs Vultr – Scalability
When it comes to scaling your VPS setup, DigitalOcean offers the easiest way to do so. VPS hosting are always known for their scalability. The use of KVM virtualization also improves the flexibility that each of the VPS provides. KVM enables concurrent running of virtual machines on the same server running on the same disk and using the same graphics adapter and network card. Not only that KVM is less expensive to implement and afford. In short, KVM enables VPS to scale without the need to reinvent the wheel. You need to add more resources to your build, and you are good to go. All three of them enable you to add more disk space, CPUs and RAMs.
DigitalOcean vs Linode vs Vultr – Stability
Just like shared hosting, VPS hosting also needs to be evaluated from the perspective of stability. Each one of them has an uptime associated with it. The metric is important as it enables you to understand its stability over a long period. So, how does each fair? Let's find out.
DigitalOcean:  DigitalOcean's infrastructure is robust with excellent scalability and rapid provisioning. This makes their service one of the most reliable out there. According to their website, they offer an uptime of 99.99% which is excellent in all means possible.
Linode: Linode, just like DigitalOcean, offers excellent uptime. They provide a guarantee of 99.99% uptime which is similar to the standards set by other players in the market. To protect the interest of users in case of unseen circumstances, the company provides pro-rata credit based on the downtime.
Vultr: Vultr doesn't have an excellent reputation in the market when it comes to stability. First of all, they only guarantee an uptime of 99.95% whereas other players aim for 99.99%. They do not provide the best of uptime; however, it will suffice for most of the users out there. If your business depends heavily on uptime, then we suggest checking out other VPS hosting providers out there including DigitalOcean and Linode.
DigitalOcean vs Linode vs Vultr – Backup
When it comes to backup, each one of the virtual hosting providers offers different value. To understand, let's go through each one of them below.
DigitalOcean: With DigitalOcean, you get five automatic backup slots. However, they are not free, and you have to pay 20% of the node price per month. This means that the cost of backing up a $5 droplet will be $1.
Linode: Linode offers a slightly costly backup option. It provides backup at 25% of the node price. This means that for a $10 plan, you need to pay an additional $2.5 per month. However, manual snapshots are free on Linode.
Vultr: Vultr also lets users to make a backup manually. The automatic backups, on the other hand, are charged at 20% higher base fee compared to the hourly/monthly fee.
DigitalOcean vs Linode vs Vultr – Performance Metrics
With most of the key aspects compared, it is now time to see the real numbers. Our source for the performance metrics is Joshtronic.com. The website, periodically, covers the showdown between these three VPS players. The focus of this section is to provide a summary of what to expect when you get the basic $5 package from these three virtual private server platforms.
Memory (Read and Write): DigitalOcean wins when it comes to operations per second and maximum response time.
Fig 2: Memory (Read and Write)
File I/O: In File I/O, Vultr seems to beat almost everyone out there. It offers better reads and writes per second. Moreover, it also has a better minimum, average and maximum response time.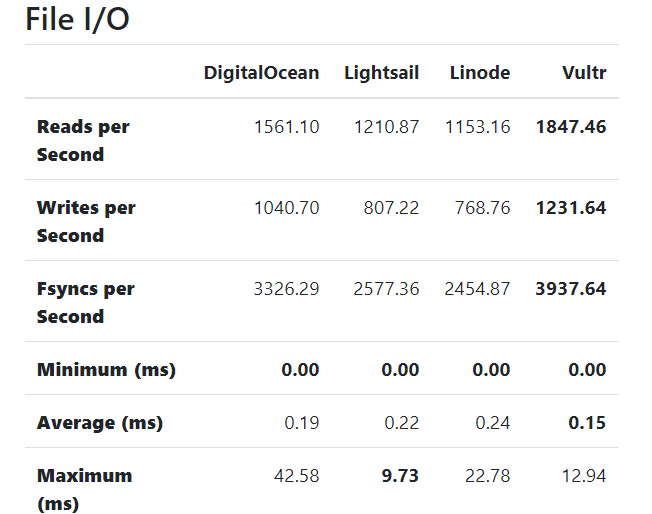 Speed Test: When it comes to speed test, Vultr wins with a slight margin from DigitalOcean. Linode, on the other hand, seems to be slow by a considerable amount, but nothing concerning.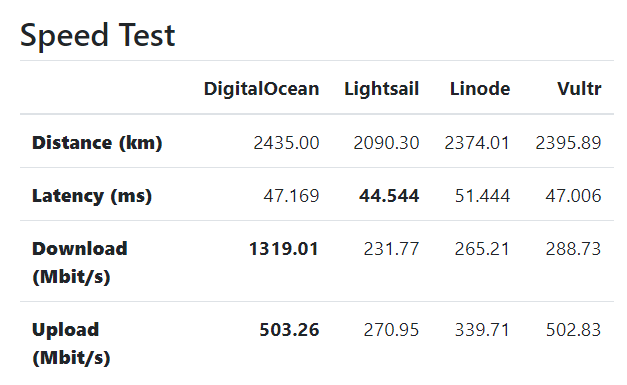 There are other performance metrics covered in the original blog post on Joshtronic. We encourage our readers to check it.
Final Words
If you are looking for the best cloud VPS hosting provider in the marketr then the good news is that there are plenty of options available right now. In today's article, we focused on DigitalOcean, Linode, and Vultr. All three of these have their presence in the market and offers excellent service at an affordable rate. The competition is so high that all three of them follow each other pricing almost instantly. This means if one changes its pricing, the other two will also change it in due time.
For a business, choosing a VPS over dedicated and shared hosting is no brainer. VPS offers much more value and can be configured just like a dedicated hosting. Of course, it depends on the right VPS hosting provider choice.
However, before you decide to pick the right VPS hosting for your business, you need to consider the following questions.
1. Which platform the VPS hosting provider uses? Is it OpenVZ, KVM or XEN?
2. Which features of the VPS hosting offers that suits your requirement?
3. Which OS you are going to use? Also, does the VPS support OS of your choice?
4. Is the service fully or partially managed?
5. What are the reviews of the services? Are they good?
6. How reliable and stable the VPS service is?
So, which VPS hosting are you going to choose for your project? Comment below and let us know.