How we reduced AWS Cloud bills of Arthimpact Finserv by 65%.
Arthimpact Finserve Private Limited is a Fintech company based out of Mumbai India that processes and disburses loans to customers 100% electronically through a web application. We identified the challenges that led to the increase in AWS costs, analyzed them, and devised a solution to decrease their AWS bill. Let's dive into it.
Challenge
Arthimpact Finserve Private Limited uses AWS for hosting its web application. Their cloud infrastructure cost was over 16,000USD/month and they believed their workload should not cost this much, their in-house team who is managing their AWS architecture was not qualified enough to manage the complexity of their environment hence they were not sure how to reduce their AWS Cost.

As a technology startup, they cannot spend too much on AWS infrastructure costs that would reduce their business profit that may lead to a cash crunch, they were in a dire situation to mitigate this issue so that they can concentrate on their applications development which will, in turn, help them to get a lot of clients. They contacted EasyDeploy seeking help to reduce their AWS Cost to a maximum extent without compromising the performance of their application as well as their business revenue.

Analysis
To Reduce AWS Costs we an expert AWS Consulting Partner carry out the following steps before we proceeded to suggest them the solutions 
We analyzed the AWS cost and its usage reports for the past 3 months and  have created a spreadsheet of charges for each of the AWS service

We analyzed the CPU usage and Memory utilization details of all the AWS EC2 and RDS instances

We analyzed and found that they are using a lot of unwanted AWS EC2 instances

We analyzed and found that they haven't utilized the Reserved instance feature provided by AWS

We analyzed and found that a lot of old AMIs of AWS EC2 and snapshots of AWS RDS were present in their account

We analyzed and found there are huge data present in AWS S3 buckets that are not Enabled with a lifecycle policy

 We analyzed and found Cloudwatch logs are not enabled with any retention policy to expire the old and unwanted logs

We analyzed and found ECRs are not Enabled with a lifecycle policy

We analyzed the NAT Gateway data charges and saw that there was no private link between AWS S3 and ECR repository.
Solution
We listed out all these details to the client after getting approval from them. We optimized their AWS Cost through the following process:
Removed the unwanted EC2 instances

Resized the required EC2 instance according to their current usage

Purchased Reserved instances for all the required EC2 and RDS instances

Removed the old AMI images of EC2 and snapshots of RDS

We have set the RDS snapshots only with 15 days of retention as per the Customer's requirement

We have set the EC2 AMI only with 30 days of retention as per the Customer's requirement

We have set the Cloudwatch logs retention for 30 days

We removed the unwanted data from AWS S3

We have set the lifecycle policy for the ECR images in order to remove a large count of untagged images and also for retaining only 30 images

We enabled a Private link to save NAT gateway bandwidth charges, as mentioned in the link – Save NAT Gateway Bandwidth charges
From below you will be able to see how their AWS cost has been reduced. AWS bills for the month of July, August, and September



Below We have attached the AWS Cost Comparison Chart representing the AWS Bills for the above-mentioned months.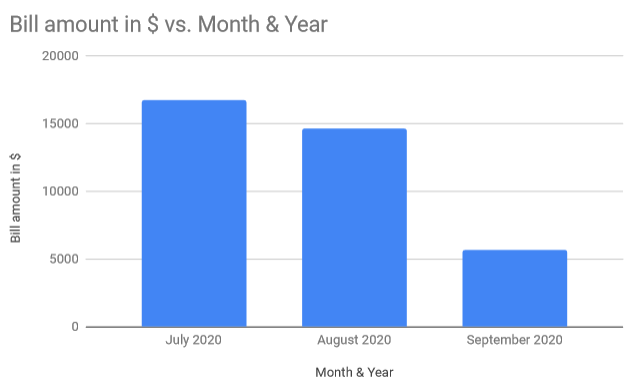 Outcome
Arthimpact Finserve Private Limited came to EasyDeploy in August 2020 and their AWS charge for July 2020 billing cycle was $16760 due to the changes we have implemented September 2020's AWS Bill amount is brought down to $5729 which is approximately 65% reduction in their overall AWS billing.
We at easydeploy.io have more than 7+ years of experience in handling various complex AWS infrastructures. We are also AWS's Select Tier partner and we have the required qualifications to manage the AWS environment for our clients efficiently as per AWS's standard operating procedure. If you need to save your AWS cost you can contact us.
 FAQ
1. Is it Possible to reduce AWS Costs by 70%?
Yes, You Can Reduce the AWS Cost by optimizing your cloud infrastructure by choosing the right AWS EC2 Instance Size.
2. What is the best strategy to reduce AWS EC2 Cost?
Using Reserved Instances for long-term usage will help you to reduce your AWS bill by up to 72%.
3. Why is it important to remove unwanted EC2 Instances?
Unused EC2 Instances eat up your AWS Cost by acquiring charges for storage, computing, and networking resources. By eliminating unused EC2 Instances you can save your AWS Spending.