DigitalOcean has made a name for themselves when it comes to providing cheap and stable cloud service hosting.

As a user, you might be thinking how much does it cost to host a website on DigitalOcean? If you do, then you have come to the right place as we are going to discuss the topic in detail.
Also read, How much does it cost to host a website on Microsoft Azure?
What is the cost of hosting a website on Amazon AWS?
What makes DigitalOcean a great website hosting platform?
DigitalOcean is known for their services in the industry as it is compared with the best cloud computing services out there including Amazon, Azure, and even Google. The key features that make DigitalOcean great are as follows.

Seamlessly deploy and scale: DigitalOcean gives you the tools and configuration that can help you deploy and scale your website with ease.

One-click apps: You can install complex CMS and solution with just one-click apps that have a pre-built configuration.

Global availability: Choose the data center from a list of global servers that suits your requirements.

Supports team management: It comes with team collaboration features that help and manage your website.

Proper backups and snapshots: Take proper snapshots and backups that will help you manage your website better.

Cloud Firewalls and Private networking: Comes with proper cloud security infrastructure and also provide communication between droplets.

Other key features include the ability to seamlessly scale and monitor your website with the help of natively integrated toolset, summary dashboards and real-time alters.
Pricing
When it comes to pricing, DigitalOcean provides great value to their buyers. It has predictable pricing which is welcome for most of the buyers. All the plans include proper features including monitoring & alerts, CLI & API, 24/7/365/, No, cost, pre-defined firewalls, 99.99% uptime SLA and so on.

A basic server setup with 1 GB of memory, one vCPU, 25GB SSD, 1 TB transfer will cost you $5/mo. Or $0.007/hr. As you can see this basic droplet is more than enough for a website with a decent amount of traffic. You can also use it to host a static site. One more thing that you should note is that there is no free plans or offers when it comes to DigitalOcean.

If you have an eCommerce website with a decent amount of traffic, it can cost you anywhere between $20/mo. – $40/mo.

Want to go even higher? Then you can get 32 GB RAM, eight vCPUs, 640GB storage and 7 TB transfer for $160/mo. Let's check the image below to get an idea.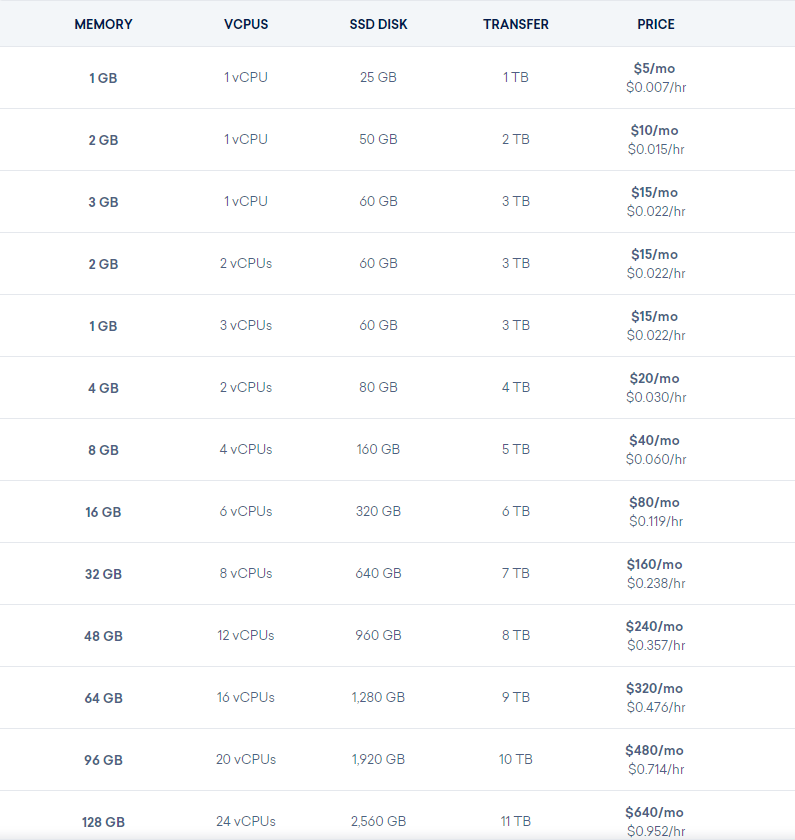 You can also add additional storage, RAM or other resources to your website when needed. This also means that you have full scalability and grow whenever needed.
If you want to know more about the DigitalOcean pricing, we recommend checking out their official pricing page: https://www.digitalocean.com/pricing/

We hope that you found the post useful. If you did, do not forget to comment below and share it with your peers.