Despite the contrary belief, hosting a website on the cloud service provider is an excellent option for individual and even businesses out there.

In this article, we will be exploring how much does it cost to host a website on Microsoft Azure? Let's get started.

Microsoft Azure is also one of the leading cloud service providers out there. It is similar in ranks of Amazon AWS. Azure also offers an easy way to host your application and website.
Also read, Detailed cloud hosting price comparison chart: AWS vs Azure vs Google Cloud
Also read, How much does it cost to host a website on Amazon AWS?
Static Website Hosting in Azure
If you want to host a static website on Microsoft Azure, you will have to spend anywhere from $0.5 to $2 per month.

A static site only needs Storage and Bandwidth which means that you can get away with small charges. You need to get Block Blob Storage to get started. It has no upfront cost, and you need to pay for what you use/need.
Dynamic Websites
A dynamic website requires more resources, and hence costs more when compared to a static one.

Any website that runs dynamic content would require server-side code. You can use Azure App Service to get started. If you are looking for shared infrastructure, then you can get ten free web sites, but they are limited in terms of storage and CPU.

If your website has more traffic, then you need more resource to handle it. This means that you need to get more CPU and storage which can cost you anywhere around $50 and more per month. In short, the free-tier won't cut, and you need to look out for the other tiers such as the basic, standard and so on.
The Pricing
Apart from the free tier, Microsoft Azure has more to offer when it comes to hosting your website.

Free – 10 Web, mobile or API apps, 1 GB disk space.
Shared environment – 100 Web, mobile or API apps, 1 GB, custom domain support, $0.013 per hour.
Basic dedicated environment – Unlimited apps, 10 GB, 3 maximum instances, $0.075 per hour.
Standard environment – Unlimited apps, 50 GB, 10 maximum instances, $0.10 per hour.
Premium – Unlimited apps, 1 TB, Up to 100 instances, $0.40 per hour.
There are other key features with each package. You can check the image below to know more about it.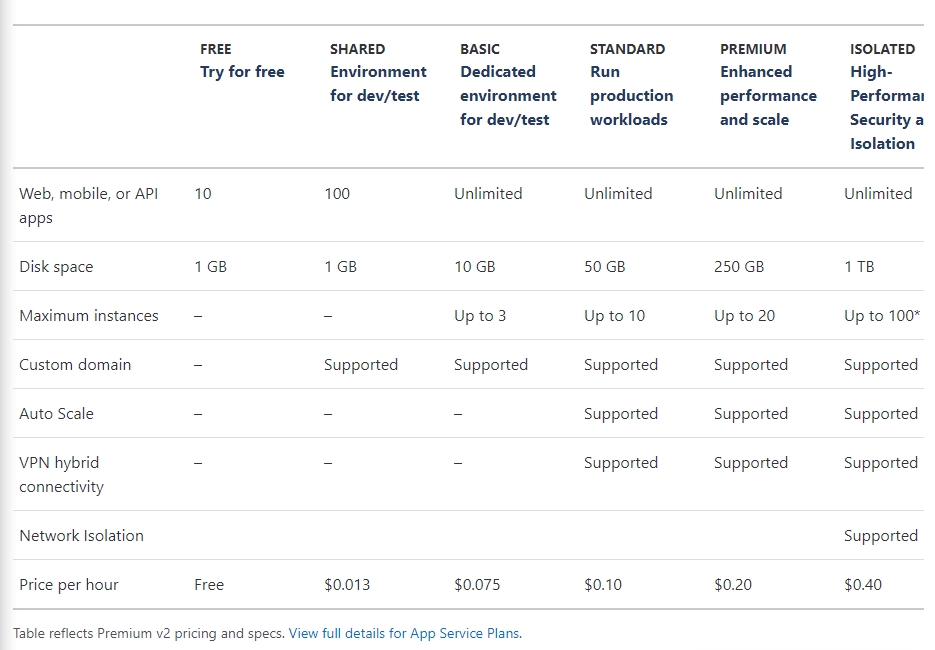 There is more pricing breakdown for each one of them depending on the cores you deploy. Let's take a look at all of them briefly.
Free plan
There is no SLA for shared and free plans.

Basic Service Plan
The basic service plan is ideal for those websites or app that have low traffic. It doesn't support auto scale, but do offer basic traffic management features. The pricing depends on the resources that you need.

Standard Service Plan
Standard Service Plan is designed for a website with a decent amount of traffic.

Premium Service Plan
It is aimed towards the website that requires excellent service.

Isolated Service Plan
Isolated Service Plan is ideal for those websites that receive millions of viewers per month.


Other Services
They also offer other services that you may require to run your website. For example, you can get a domain from them at a price of just $11.99 per year. It also includes privacy protection.

Other than that, you can also get Secure Sockets Layer(SSL) certification for just $69.99/year/1-year validity. They also offer a Wildcard SSL certificate which offers $299.99/year/1-year validity.
Conclusion
This leads us to the end of our guide on how much it can cost you to host a website on Microsoft Azure. We hope you now know what's the actual cost. If you are still confused, you can always ask questions in the comment section below. We are here to help you!