If you are a business who are looking for the best possible hosting solution for your website, then Amazon AWS is a great choice.

Amazon AWS comes equipped state-of-the-art feature-set for enterprise-ready applications. However, it is equally useful if you want to host a website on it.

In this article, we will be exploring how much does it cost to host a website on Amazon AWS? Let's get started.
AWS Web Hosting
Amazon knows that its services are equally beneficial to web hosting purpose. That's why they provide cloud-based web hosting solutions which can be used by businesses, governmental organizations and others can take advantage of it.

So, what makes it such a great option? Cost and reliability. It is a low-cost way to get your web applications and website online. Also, you will get the best possible website hosting solution that can take on the latest needs of a demanding site. It doesn't matter if you are building an e-Commerce website or a personal one, AWS got you covered.
Also read, How to purchase EC2 reserved instance in AWS?
What makes AWS great for web hosting?
There are many reasons why you should choose AWS for web hosting. Let's list them below.

Worldwide data centers: With data centers spread across all over the world, it lets you optimally deliver your website to anyone around the world.
Platform support: AWS comes with support for the major CMS out there. Want to use WordPress, Joomla, Drupal? It got you covered.
Flexible pricing models: The pricing models is what makes hosting a website on AWS an excellent proposition. As a user, you can also choose to pay no upfront cost and only pay-as-you-go. We will cover more on this below.
Scalability: The biggest advantage of using AWS is the scalability it offers from day one. If your website sees a spike in traffic, you can simply scale your solution, rather than upgrading it to another plan.
What is the cost of hosting a website on Amazon AWS?
As said earlier, Amazon AWS offers excellent pay models. To get a grip, let's explore the costing below.

Static website: Static websites are the simplest websites with no dynamic content in it. You can use AWS to host these kinds of website in just seven steps, which will take you around 30 mins. The cost of hosting a static site can vary from $1-3$/ month(if you are not within the AWS Free Tier limits.) However, it can cost you 0.50$/month if you stay within the AWS Free Tier limits.

Summary Static Website
Outside the AWS Free Tier Limits: $1-3/month.
Within AWS Free Tier Limits: 0.50/month.
Want to know more about the static website hosting? Check out their official page here.
The impact of individual service usage and cost
At AWS, you will not get a hard-bound cost average for your hosting needs. As AWS is an accumulation of different types of services, you need to pay for each service that you use. To get a clear gasp, let's go through the different types of AWS website solutions that are on offer.

Simple Website Hosting: Simple website hosting are ideal for most businesses out there. It has the ability to run one instance of the content management system of your choice. You can use
Amazon Lightsail to get your website online quickly.

The pricing starts from $3.50/USD(for Linux/Unix) which comes with 512 MB Memory, 1 Core Processor, 20GB SSD Disk and 1 TB Transfer. For Windows, it starts from $12 USD for the same hardware.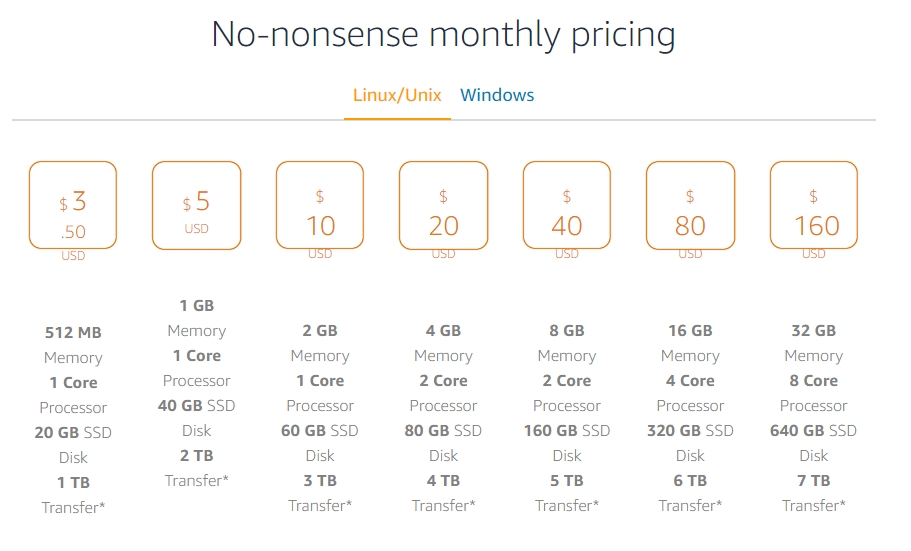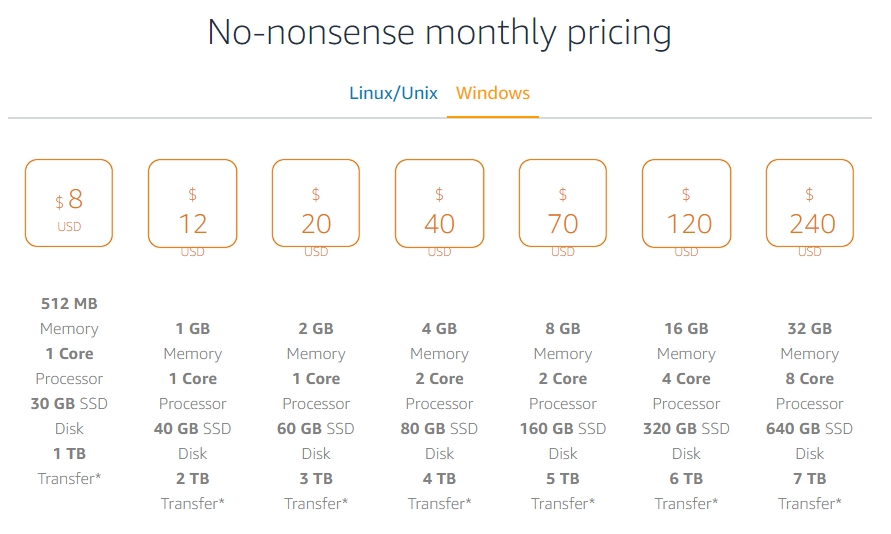 Now, let's try to understand it based on user's requirement.

Free Tier + Micro Instance – $8-$10/month after one year of free usage. This is best suited for small websites, landing pages or small development server.
Corporate website, few WP blogs and landing page – This will cost you around $20-$30 considering that you have decent traffic.
Web Agencies – Web Agencies can also take advantage of what AWS has to offer. With one medium instance, 4GB RAM and 2 CPUs, it can easily cost you anything from $40-$50 per month.
E-Commerce – E-Commerce websites can also run on a medium instance. The actual cost depends on the amount of traffic it gets. Anything between 50$ to $100 can be needed to run an e-Commerce with decent traffic.
Scalable SaaS application – The hosting cost can range from anywhere $200- $800 per month. It is best suited for startups where they need to set up their caching, database, CDN and so on.
Enterprise hosting– It can range anywhere from $1000-$5000 per month depending on the traffic, budget and the organization size.
Conclusion
This leads us to the end of the article. It's evident that the cost of the hosting depends on your requirement. We managed to cover almost every possible angle.

If you find the article useful, do not forget to share the article on Linkedin, Facebook, and Twitter. Also, comment below how much you are going to shell out for web hosting on AWS? We are listening!